1305 West Chester Pike #9A
Havertown, PA 19083
Manoa Shopping Center

(484) 453-8721
Serving You Today Until 5:00 pm
| | |
| --- | --- |
| Monday | 10:00 am - 5:00 pm |
| Tuesday | 10:00 am - 5:00 pm |
| Wednesday | 10:00 am - 5:00 pm |
| Thursday | 10:00 am - 5:00 pm |
| Friday | 10:00 am - 5:00 pm |
| Saturday | 10:00 am - 5:00 pm |
| Sunday | 11:00 am - 4:00 pm |
Ben Labovitz Franchise Store Owner
View Our Store Site
Wild Birds Unlimited Open Once Again for Safe In-Store Shopping
To say that the last few months have been unusual would be an understatement. Throughout this time, we were happy to be able to serve you in a limited capacity and sincerely appreciate your support of our locally-owned small business.
We are thrilled to announce that our showroom is open once again for in-store shopping! We can't wait to see your smiling face in person once again.
We want you to know that our top priority will be to provide a safe environment for you and for our staff. For the foreseeable future, a few things will be different in the store and we appreciate your patience as we all get back to feeling "normal" once again:
<<<<
Use of PPE: Our staff will wear masks and we require that shoppers wear masks as well while in the store.
If you're not yet comfortable shopping in-store, you can keep your feeders filled by ordering online at mywbu.com/havertown to have items delivered or to arrange for curbside pickup Or, just call us at us at (484) 453-8721.
Until we meet again, we wish you peace and good health.

Nature Centered From Wild Birds Unlimited
Subscribe to our podcast featuring Wild Birds Unlimited's Chief Naturalist, John Schaust and Brian Cunningham, Product and Hobby Education Manager. Listen, as they share information about feeding the birds and enjoying nature right in your own backyard. Relax, enjoy the birds, and stay Nature Centered.
Click your favorite way to download podcasts then sit back and enjoy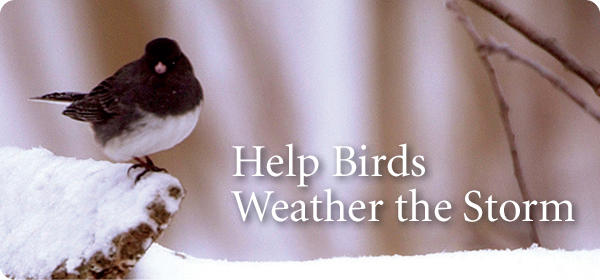 Help Birds Weather the Storm
Just as we rely on coats, hats and mittens to keep us warm in the face of winter's icy grip, birds employ a number of methods to survive the adversity of winter. And you can help!
Food is the most essential element, providing birds with the energy, stamina and nutrition they need. To stay warm, birds will expend energy very quickly, some losing up to 10% of their body weight on extremely cold nights. An ample supply of high-calorie foods such as black oil sunflower, insects and suet is crucial to a bird's survival.
We can play a vital role, as feeding the birds becomes critical when extremely cold conditions occur. At these times, a supply of food can mean the difference between life and death for a bird.
Most birds will adjust their feathers to create air pockets that will help them keep warm. You will often notice the birds look fatter or "puffed up" during cold weather. This is because the birds are fluffing up their feathers; the more air space, the better the insulation.
Staying warm is not all about food and feathers though. Some birds perch on one leg at a time, drawing the free leg to their breast for warmth. Most birds will shiver for short term adjustments to the cold. Shivering converts muscular energy into heat for the short term, but the energy must be replenished shortly thereafter.
While birds are equipped to withstand most winter weather, survival can be made easier by providing food, a heated, open source of water and protection from the elements with natural plant cover or a roosting box.
Stop by the store today and let us show you which high-energy foods will help your birds brave the cold snap.
---